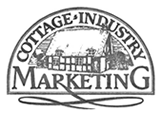 Craftsmen
Cottage Industry Marketing:
Working with the skilled independent artisans of England to provide the best of bespoke traditional furniture and joinery…
In this craftsmen profile, one business name constantly re-occurs… that of Bylaw the Furniture Makers… a company which, in its time, reached the very pinnacle of its market by providing the best traditional country furniture and joinery across the world. After a history touching five decades, the business was taken over in June 2011. Sadly, in the continuing unrelenting recession, it closed forever during the latter half of 2012.
However… what was never in any doubt was the unsurpassable standard of its craftsmen, and several of them, now independent, are represented here.

Ted Ward: If one person epitomizes everything old Bylaw stood for… it would have to be Ted. Back in 1976, he was a co-founder of the business that later became Bylaw the Furniture Makers, remaining a director until relinquishing ownership to new management in 2011. He now operates a small workshop, Edwin J Ward Furniture & Joinery Ltd., where, working closely with Cottage Industry Marketing, he continues to produce the best of traditional country furniture and joinery. Having led a workshop team for so many decades, his work has taken him all over this country, many parts of Europe and on several occasions, to the eastern states of the USA. Ted is a true born 'natural' in the world of woodworking skills and in preference to an office desk, is most at home at a work bench!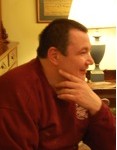 Kenny Neave remains a firm member of Ted's team. A highly competent cabinetmaker, they have worked together for almost thirty years.
Joining Ted's company when only 18, he continued with Bylaw through into the new ownership of 2011/12. Following its collapse in 2012, a short period of unemployment followed, so Kenny was delighted when offered a position in Ted's new business. His joinery expertise is hard to equal and consequently, his travels match those of Ted's. "Working away" has led to some very special locations around the world.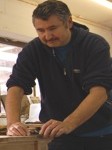 Andy Neave, Kenny's older brother, has worked with Ted for well over twenty years. Having joined Bylaw in 1991, he remained with them until, under the new ownership of 2011/12, he became unemployed following its collapse towards the end of 2012. Like Kenny… he was soon to be "head-hunted" by Ted who, well aware of Andy's ability, perseverance and diligence, was only too pleased to find a place for those indisputable skills in his newly formed small team. Like his brother and Ted…. the pursuit of providing top quality joinery and furniture has taken
Andy to many parts of Britain, Europe and America.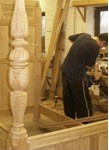 Ben Warmer, in spite of being one of the youngest craftsmen represented, can also claim a vast experience, having worked on projects around the world. As well as being a cabinetmaker for Bylaw, he has extensive experience in cabinetry for the "high end" luxury yacht building trade…. a very transferable skill when re-applied to the art of installing traditional wall panelling in grand country homes. Following the demise of Bylaw in 2012, Ben seized the opportunity to set up his own small workshop. When more substantially equipped facilities are required, he is able to use those provided by Ted and when Ted needs extra capable hands, Ben makes his skills available to "the team"…. The raison d'etre of Cottage Industry Marketing in a nutshell!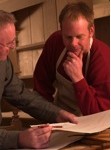 Kevin Keeler worked at Bylaw for many years before branching out to set up his own workshop in 2005. This has suited Kevin and provides the autonomy on which he thrives. However, if a big project beckons, he is equally willing to form part of a team alongside his old colleagues… with the whole becoming greater than the sum of its parts! Like the others, well travelled in pursuit of providing the finest of British craftsmanship, he will undertake a diverse range of commissions, always executed with a consistently high level of skill and innate talent.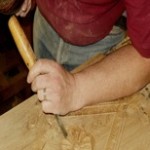 Kevin Blythe is a multi-talented craftsman capable of making the finest of furniture. However his more unique skill is that of a carver. Kevin is able to design and carve the most intricate of details…. a most useful asset to the other Cottage Industry craftsmen. Although Kevin has always maintained an independent workshop, over his years as an outworker, he contributed his skills to innumerable Bylaw projects. Ted and the others continue to call upon his talents for the wide range of requirements demanded by the niche that is today's bespoke furniture and joinery marketplace.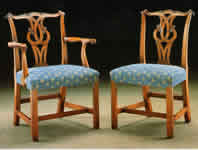 Steve Allen: A contemporary of Ted Ward, they first met when working together as antique restorers in the 1970s. Steve went on to work as an independent craftsman and frequently as an outworker for old Bylaw, especially when there was demand for his precise, painstaking and uncompromising style of work. Steve was responsible for making the Norfolk Chippendale chairs offered by Bylaw as well as some remarkably intricate joinery work. In addition to traditionally styled work, Steve is very happy to embrace contemporary cabinetmaking and joinery with a recent project requiring him to work in the Bahamas for about a year. He now shares a Norwich based workshop with his equally skilful brother Jeff.

Patrick Notley, master upholsterer, established his own business in 1986 and included Bylaw amongst his prestigious trade clients (upholstering such classics as the "Barrel back chair"). Like Bylaw in the past, Ted Ward and the other cabinet makers continue to require high standards of upholstery to complement their own work. By specialising in traditional techniques, Norwich based Pat is their obvious choice. Cottage Industry Marketing clients will also be pleased to learn that he carries out restoration and repairs. Pat's client list is impressive and we recommend his services in the confident knowledge that he stands amongst the best in his trade. You can visit Pat's own website at www.notleyupholstery.co.uk.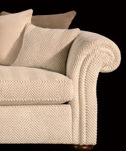 David Gascoigne: Back in the 1980s David approached Cottage Industry Marketing to sell his new sofa ranges. He was just starting out but we quickly realised the high quality of his soft furniture dovetailed perfectly with the furniture we were offering. Trading as Gascoigne Designs his business went from strength to strength and later, during the nineties and early noughties he became a major supplier to Bylaw's expanding quality soft furniture market. Today, with companies "Furnwood", "Legacy" and "Art Forma" also under his wing, his could hardly be described as a "cottage industry", but that original ethos of quality still underpins his core principles. He remains passionate about providing the best individually made pieces to a discerning public seeking bespoke soft furniture to suit THEIR specific needs. David supplies exclusively to "higher end retailers" and we can arrange for you to view the vast and eclectic range of soft furniture and fabrics he has available in his Long Eaton showroom near Nottingham. You can then make your purchase through us or visit one of his appointed retail stockists throughout Britain. You can visit David's website at www.gascoignedesigns.co.uk

Dave Green of chair-makers Sitting Firm runs a family business based in the heart of England. He uses his 25 years experience of English Windsor chair making to head up a multi skilled team to produce an exceptional collection of chairs. They use only the finest quality sustainable hardwoods, especially aged English ash, ideal for the purpose. Windsor chair-making is a skill different to, but compatible with, those of the cabinetmaker. Using methods developed in the early 18th century including steam bending, turning and adzing, they produce chairs that are both ergonomically and aesthetically pleasing. Dave is happy to supply chairs "in the white" ready for finishing and polishing by the other Cottage Industry craftsmen (perhaps to match a table and dresser) or complete with his own workshop finish ready for use in the home. You can visit Dave's website at www.sittingfirm.co.uk


Neil Postons (antique restorer) and his versatile team have for many years been restoring and conserving all types of antiques including fine furniture, clocks, barometers and traditional upholstery. Neil first set up his Leominster based workshop over a quarter of a century ago and Cottage Industry Marketing introduced him to several of his earliest customers. His client list is long and impressive and his fine and sensitive restoration work sits proudly in quaint cottages and grand stately homes alike. We have no hesitation in recommending his services – Just provide us with an outline of your requirements or contact Neil direct… You can visit his website at http://neilpostonsrestoration.co.uk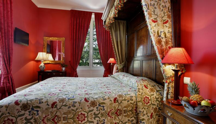 Ingrid Robson runs a fabulous little business called Brookend Interiors from a wonderfully stylish workshop set in her idyllic English cottage garden deep in the Herefordshire countryside. For many years Ingrid supplied bed drapes for the fabulous four poster beds made by the craftsmen of old Bylaw. But that's not all, for her work continues to take her all over Britain and for Bylaw, her commissions included specifying, supplying and executing complete drapery and colour schemes for a grand chateau in France and a spectacular villa overlooking the shimmering Aegean Sea. Her unique combination of skill and impeccable taste has served to enhance quaint country cottages through to the finest of grand estate mansions. More of her work can be seen in the bespoke furniture archive.

John Beavan first worked with Cottage Industry Marketing during the 1980s, immediately after having graduated in cabinet making from college in Shrewsbury. We were so impressed with the standard of his work that we immediately and successfully offered his "graduation piece" for sale. John went on from those early days to create one of the finest bespoke cabinet-making workshops in England. He would never make public his client list but you can rest assured that if you commission work from him, you will be amongst extremely good company! You can visit his website at www.johnbeavan.com

Bob Jones is a time served French polisher, having served his apprenticeship at GT Rackstraw Ltd of Worcester many years ago. He first carried out work as part of the Cottage Industry Marketing team in the early 1980s and has finely polished innumerable items of furniture and joinery including the panelling Cliveden (left).  He is highly competent and further provided support polishing work on Bylaw joinery projects in the west during the 'noughties'. He now works for AG Woodcare based in Bidford-on-Avon in Warwickshire. With Andrew Downey, the proprietor of AG Woodcare, he has just moved to larger, better facilities and they are very willing to estimate for furniture and joinery based on your requirements. They have spraying facilities and by combining modern methods and techniques with Bob's traditional skills, they are able to provide a finished product to match the best in the marketplace. However, if you prefer finishing and polishing yourself, the core business of AG Woodcare is the supply of everything you could possibly need. You can visit their website at www.agwoodcare.co.uk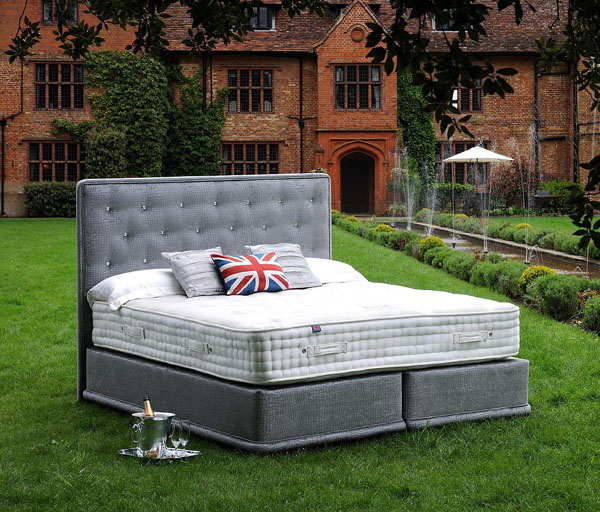 Colin Payne is the operations director of EPOC Beds based in Suffolk. Not exactly a "cottage industry" but they treat every item individually as a hand made bespoke piece, and use only the finest materials and products. Their great attention to detail allows them to work to bespoke sizes and specifications. For good reason, they enjoy the support of a very loyal (and impressive) customer base that has come to expect a consistent, high quality service. If you commission a four poster bed based on the fabulous old Bylaw range, we highly recommend an EPOC divan & mattress within it! You can visit their website at www.epocbeds.co.uk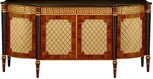 Stephen Hunter and his team of exceptional craftspeople have, since 1987, been hand making the finest English traditional furniture for UK and overseas clients. He is able to offer a substantial collection of authentic classic English designs that are entirely bench-made by hand at his purpose built workshop in Norwich. Handmade reproductions of fine antiques are available in addition to his offering a bespoke service for custom-made designs in classic furniture styles. Designs can be exact copies of fine antiques or, when appropriate, skilfully modified pieces to suit the requirements of today. You can visit Stephen's website at www.stephenhunterfurniture.co.uk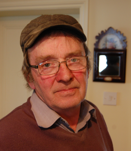 Reg Norton's business was established in the early 1970s.
In 1978 he was one of the first craftsmen to be represented by Cottage Industry Marketing. He must've made us well over a hundred oak nests of tables in those early days… along with the occasional walnut kneehole desk, innumerable dressers and refectory tables etc. before building his own seagoing fishing boat and then a couple of houses… just to keep his hand in!… Not to mention his own eight bedroom farmhouse set on the hills overlooking the Shropshire/Welsh border. Reg is the classic "can do" craftsman! If he needs something… he builds it! He has more recently specialised in oak porches although he'd prefer the smaller ones nowadays….suggesting wryly…  "They seem to be getting heavier as I get older!" You can visit Reg's own website at www.handmadereproductions.co.uk